Download these templates to help with the design of your casstette or cd!!!  
Just drag your art work (300 dpi) on top of the template guide lines to make sure everything fits and save as a .pdf file for an easy upload later on!!! 
Please make sure to include " BLEED" on any art that you want printed to the edges of the template.     
Also, be sure to  remove any guidelines that you DO NOT WANT PRINTED on the actual cover!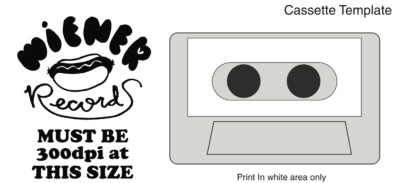 THIS IS AN INFORMATIONAL TEMPLATE TO USE AS A GUIDE FOR SUBMITTING YOUR FINISHED CASSETTE ART TO US!   
PLEASE MAKE SURE THAT ALL ARTWORK HAS AN APPROPRIATE AMOUNT OF "BLEED" INCLUDED, AND HAS A RESULTION OF 300 DPI

PDF FILES SHOULD BE SUBMITTED IN THE FOLLOWING FORMAT: 
"BAND NAME - ABLUM TITLE - TEMPLATE USED".pdf


PLEASE USE THE "CASSETTE LABEL" AND "J CARD" TEMPLATES WHEN UPLOADING FINAL ART WORK :)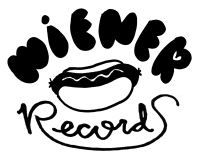 (THE LOGO)
ADD IT ANYWHERE!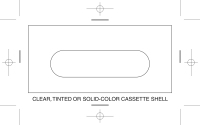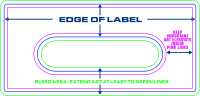 MAKE SURE ALL THE INFORMATION YOU WANT ON YOUR CASSETTE FITS AND ART IS SET AT 300 dpi!
This template is used for designing what your cassette is going to look like.  
We offer two different printing options, choose from Imprinting (standard) or Color Labels (additional charge of $0.14 per cassette) to customize the look of the tape.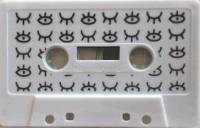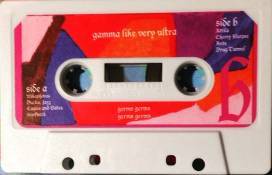 (IMPRINTING)
(COLOR LABEL)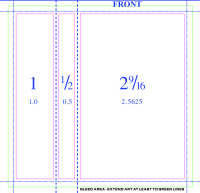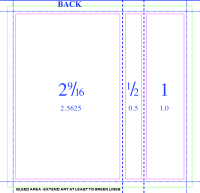 SINGLE OR DOUBLE SIDED (CASSETTE ONLY!)
This is the standard J Card that comes with every package!  Please make sure to include a lil "bleed" on art, make sure art work comes to the edges of the J Card.  This is to make sure the entire J Card gets printed on!
Also, please be sure to remove any guidelines so they don't get printed onto the J Card and all artwork is set to 300 dpi!  
Check the 7 Panel J Card Template down below if you think your art needs more room :)
(FRONT)

THESE ARE THE MAXIMUM DIMENSIONS ALLOWED FOR A MULTI-PANEL J CARD (CASSETTE ONLY!)
4 - 7 Panel J Cards are available for an additional cost:
4 Panels - additional $0.25 per cassette
5 Panels - additional $0.50 per cassette
6 Panels - additional $0.75 per cassettte
7 Panels - additional $1.00 per cassette
(4 - 7 PANEL J CARD TEMPLATE)